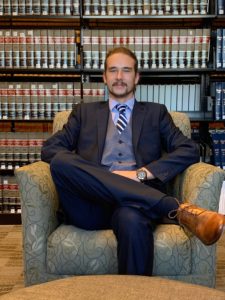 Triche Immigration Appeals is delighted to announce the placement of Mr. Colton S. Bane as our new Law Clerk.  Mr. Bane is a native of Dyersburg, Tennessee who comes to us directly from Memphis Immigration Court, where he recently completed the coveted Summer externship position. He is a third-year law student at the University of Memphis Cecil C. Humphreys School of Law.  He also received a B.A. in Political Science from the University of Memphis.
Mr. Bane harbors what he calls a "passion for immigration law."  As a law student, he has already worked broadly in the field—including positions at the Community Legal Center, Latino Memphis, and two "Alt-Spring Breaks"—in addition to his Immigration Court experience.  He plans on practicing immigration law after receiving his law license next year.  As a 3L, he is an active Board Member of the Moot Court Board, where he has participated in a number of competitions. He is also President of Memphis Law +1, an organization for law students with a spouse, children, or other loved one who must vicariously survive the law school experience. Mr. Bane has been married to his wife Julia for over five years, and credits her for initially showing him the importance of immigration law and sparking his interest in the field.  He speaks conversational Spanish and proficient Mandarin.
Ms. Bane's main project this Fall will be to assist in preparation of the legal defense brief for an asylum-seeker who has been fined almost $500,000 for seeking "sanctuary" in a Salt Lake City church while she awaits the outcome of her Tenth Circuit appeal.  He will also support other appellate work, assist with new client intake, and conduct office administration.  Finally, Mr. Bane will provide litigation support in several immigration court cases and affirmative asylum applications.  TIA is pleased to welcome Mr. Bane and wish him much success in his early endeavours at US Immigration Law.